A craftsman is only as good as his tools. The programs you'll need for this project are:
A 3D Modeling Program


A Bitmap Editing Program


A Ride Editor Program


A few other downloadable sundry items
Let's discuss particulars --
---
3D MODELING PROGRAM -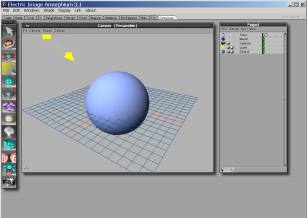 This could be any 3D modeler. Personally, I use Amorphium 3.0. from Electric Image. There are many others on the market and ANY of them will work (or should).
It IS possible to create a ride with a simple Paint program, but you're in for a LOT of pixel-pushing. If you're serious about making rides, get a 3D program.
You can find links to suitable (mostly FREE) programs HERE in the RCT Space Network Forums. Do NOT ask for my opinion about the ease of use or suitability of any particular program you may find there. I've ONLY used Amorphium.
One thing to look for that will make life MUCH easier is to be certain your 3D program can output your project as an ANIMATED .GIF MOVIE. Trust me...it's essential. I wouldn't do a ride without it.
---
BITMAP EDITING PROGRAM - I use Corel PhotoPAINT for my projects, but it's just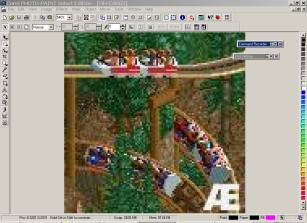 a personal preference. Any PhotoShop-type art program will do the job. The more advanced, the better. Filters, masks and the ability to batch-edit images using scripts will definitely come in handy. MS Paint WILL NOT cut it.
Make sure that your Bitmap Editor is capable of extracting/applying a CUSTOM 256-color palette...a certain set of colors used in an image. RCT2 uses an extremely specific set of colors. If your images are not converted to THAT palette, you're in for heartache down the road.
---
RIDE EDITING PROGRAM for RCT2 - There are two options available...and both FREE: